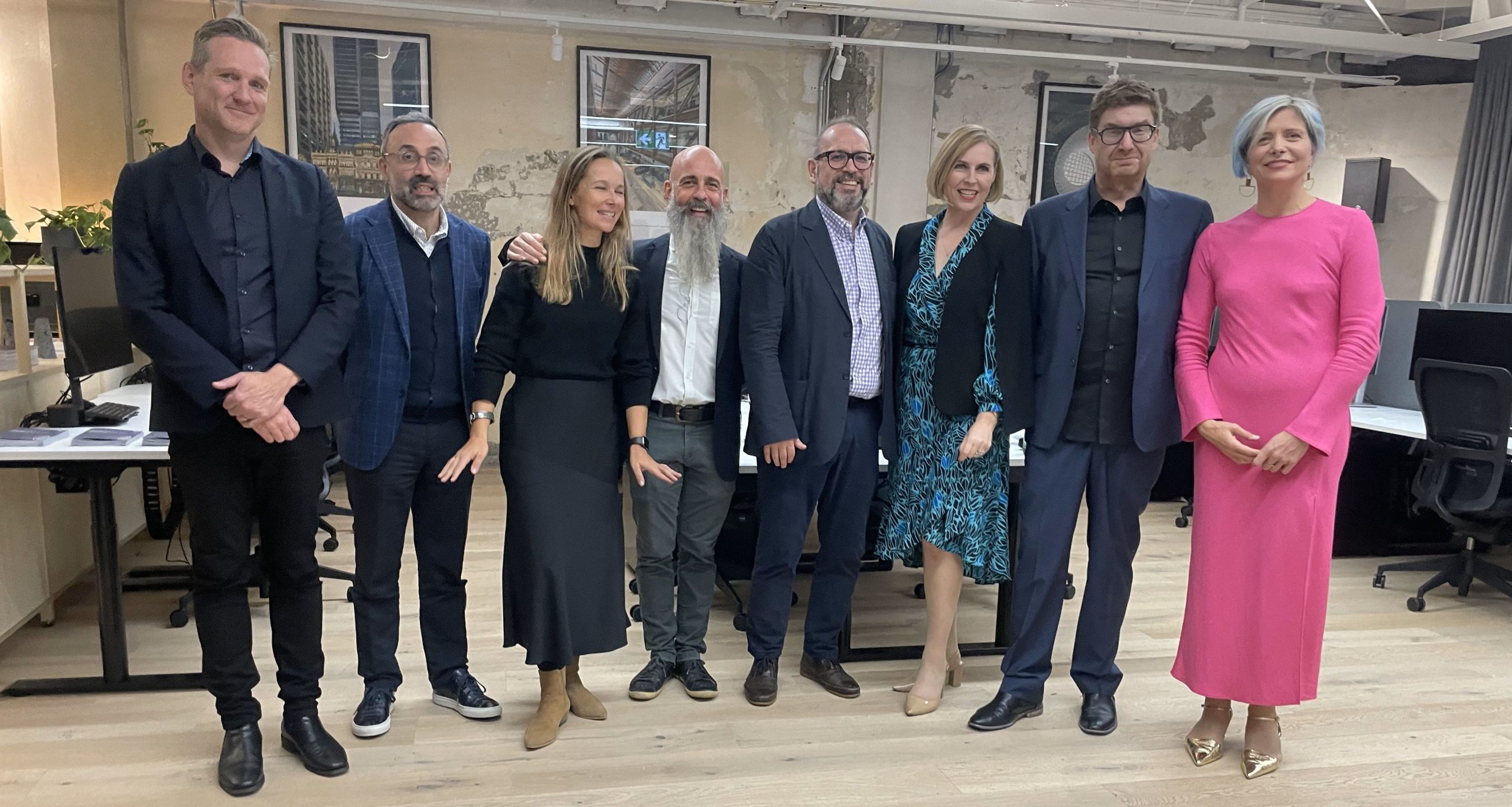 Pictured: Michael Janeke - Partner, Andrew Perez - Managing Partner Melbourne, Katarzyna Jurkiewicz - Principal, Jean Luc Milis -  Business development manager, Mark Middleton - Group Managing Partner, Amanda - Keystone Trust General Manager, Neil Stonell - Managing Partner Auckland, Malgorzata (Gosha) Haley - Principal
One of the world's leading innovative and sustainable architecture practices says its work on New Zealand's largest-ever infrastructure project has provided a new paradigm from which the business views its social objectives locally.
With more than 700 employees across eight studios located in London, Paris, New York, Dubai, Los Angeles, Sydney, Melbourne and Auckland, Grimshaw is the latest organisation to partner with registered educational charity Keystone Trust in a sponsorship role.
As a sponsorship partner, Grimshaw will provide annual funding, mentorship, and professional support opportunities for Keystone students annually.
Although Grimshaw has operated locally on major projects for several years, the business has just opened its first New Zealand studio in central Auckland and says now is the right time to expand its social framework, with a focus on creating educational opportunities across the property and construction sectors.
"Diversity is a key pillar of our business operations, and we prioritise investing in people and the design community," says Neil Stonell, Managing Partner at Grimshaw Auckland.
"In partnership with Keystone Trust, we can support real social change, increasing engagement and opportunity across the sector – a legacy that is essential to our global operations.
Stonell says through the firm's work on the City Rail Link (CRL) – New Zealand's largest ever infrastructure project spanning 3.45 kilometres of light rail, 42 metres below Auckland's city centre, the firm has gained a depth of knowledge around New Zealand's collective cultural identity, informing its objectives for social reinvestment.
"Efficient transport systems impact entire cities, just as access to quality education is a powerful driver of prosperity. Through our work on the CRL, we better understand the role of the two in supporting socio-economic equity in New Zealand and find Keystone Trust an effective avenue to make a difference."
The partnership between the two organisations evolved organically at the behest of Malgorzata (Gosha) Haley, a Grimshaw Principal, who recently attended a Keystone event as a guest of trust mentor Graeme Fletcher.
"Gosha was particularly impressed by the vibrancy of the students and the vision and purpose behind the trust," says Amanda Stanes, General Manager of Keystone Trust.
"She has been instrumental in bringing our two organisations together, and we are thrilled to develop this relationship, which is fortified by the mutual desire to enhance the built environment, paving the way for innovation through education, and changing students' lives for the better.
"Where Keystone provides the initiative that delivers sustainable societal outcomes, Grimshaw's support delivers measurable impacts – and by directly investing in those investing in the industry, we know the entire construction community stands to benefit."
Stanes says the partnership is particularly exciting given Grimshaw's global reach, which allows its New Zealand team access to new ideas, concepts, and technologies being applied overseas.
Speaking at the firm's Auckland Central studio opening on 14th June 2023, Stanes was thrilled to see several Keystone Trust sponsors also in attendance – attesting to the strength of an industry connected, which collectively creates broader scope for positive change.
For further media enquiries, please contact
 Amanda Stanes                                                                             
Keystone Trust – General Manager                                             
T: +64 21 689 380
E: amanda@keystonetrust.org.nz 
Bradford Gorman
Grimshaw – Director of Strategic Communications, Asia-Pacific
T: +61 438 770 037
E: bradford.gorman@grimshaw.global