A building and construction leader says the future for young people is secure in construction, and the industry offers a safe haven amongst professional noise.
Kalmar is the latest business to join Keystone Trust as a Key Scholarship Partner (KSP) in a collaboration which will see the multi-disciplined firm provide valuable funding and professional opportunities for students working towards qualifications in the property and construction sectors.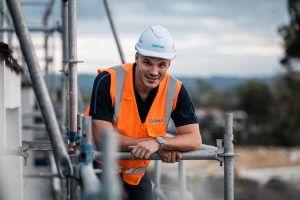 Keystone Trust's General Manager Amanda Stanes says the focus on future leaders is heartening, particularly given the fresh ideas, perspectives and value young people provide for businesses.
"Being an award-winning firm with projects across the motu, we're thrilled to welcome Kalmar to our sponsorship whānau as an organisation with parallel people-centric values and an imbued focus on lifting our rangatahi into opportunities.
"Their commitment to providing funding support and work experience opportunities is another string to the bow of our extensive sponsorship network, which now spans 60 sponsorship partners across the building, property and construction sectors and has become a powerhouse industry grid that leaders need to be a part of," she says.
In 2023 alone, Keystone has welcomed six new sponsors to its community, providing a breadth of opportunities for its students and strengthening collaboration across the sector.
Business Development Manager Justin De Beer says this was a primary driver of the decision to become a KSP, and the partnership reflects the businesses' maturity, having grown to a place where it can give back to the building and construction industry.
"Many of the executive team at Kalmar are parents with an acute awareness about the legacy we're leaving for the next generation. The world is moving quickly, and we're eager to actively participate in positive change for the built environment, the industry, and New Zealand's society as a whole."
Coming from a background in quantity surveying, De Beer extols the virtues of the sector, saying it offers a lifeline for young people across the board, from academics to those who might not have thrived in the traditional learning environments of school.
"Building and construction offers varied opportunity and clear paths for career progression and advancement, regardless of the chosen discipline.
"It's a career with transferrable skills, in-demand across the globe.
"Abundant international opportunities beckon for young individuals who seek them, presenting one of the industry's primary challenges – the wealth of options to engage in large-scale projects abroad.
"We are dedicated to retaining our workforce and fostering New Zealand's construction sector into an exceptional arena for young people to hone and apply their skills.
"It's also gratifying to travel around the city, pointing to landmarks, and say, 'yeah – I helped build that.' Those structures will stand for generations, contributing to the economic power of our country, and I am proud to show that to my kids – how many professions offer that sense of pride?"
De Beer is passionate about the business and its people-centric focus, saying it has a family-run feel, with big corporate opportunities.
"We're working on meaningful projects throughout Auckland, from retirement villages to industrial developments, hotels, residential and medical centres – but the board still sits around a lunch table at headquarters and is always approachable for team members."
Managing Director Bert Denee echoes this sentiment, saying success in the industry comes naturally when you have the right people working together.
"Our dedicated executive team has strategically centred the company on investing in our personnel. This commitment reflects an unwavering determination to attract and retain talent, which we see as essential for advancing innovation and ensuring the industry's prosperous future.
"Kalmar has grown hugely over two decades, and we are enormously proud of our achievements, which come down to the right opportunities and people working together.
"This latest partnership with Keystone Trust is an extension of this commitment to our people, and we look forward to working together to produce the next generation of industry leaders," he says.
For further media enquiries, please contact
Amanda Stanes                                                                             
Keystone Trust – General Manager                                 
M: 021 689 380
E: amanda@keystonetrust.org.nz
Justin De Beer
Kalmar Construction – Business Development Manager
M: 022 647 3582