One of Australia's largest private construction groups, Built, is investing in the Kiwi talent pool by providing graduate opportunities for the next generation.
Built, who also has a presence in New Zealand, is the latest to join Keystone Trust as a Key Scholarship Partner (KSP) at the behest of trust alumni and their Digital Engineering Manager, Amber Haddock.
The business is a diversified general contractor with a workbook that spans large-scale new-build projects, complex refurbishments and intricate fit outs across multiple sectors in Asia Pacific and the United Kingdom.
Operating in New Zealand since 2015, Built have established a reputation for delivering a wide range of luxury and complex fitout and refurbishment projects, across multiple sectors, including commercial, hotels a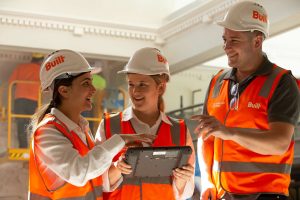 nd hospitality, and most recently into new builds.
Keystone Trust General Manager Amanda Stanes says Built has recently joined the Keystone sponsor whānau, committing to provide two scholarship opportunities a year to students working towards qualifications in the property and construction sectors in New Zealand.
"It's particularly heartening to have an Australian leader in our sponsorship network, to provide greater scope for our students, opening the door for international opportunity.
"Australia is an enormous market for Kiwis professionally, and while we would love to gatekeep our talent, the opportunity to bring international experience back home to support local productivity and innovation is invaluable."
Ms Stanes says Amber Haddock is an excellent example of this, noting that although she has now moved to Australia, she hasn't forgotten the opportunities Keystone offered to her as a scholarship recipient in 2017 and has supported the business in its decision to become a KSP for the Trust.
"Being operative for 30 years, students who have come through the Keystone fold are now in positions of influence to herald the next chapter of progress for the Trust.
"This means those we have taken care of and feel a sense of, kaitiakitanga, guardianship. So, it becomes a fulfilling cycle of the Trust taking care of people and the people taking care of the Trust in return."
Over the 2023 year, Keystone has signed six new s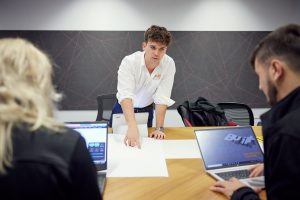 upporters, and its sponsorship schedule reads more like a who's who of the property and construction sector.
"It's thrilling to be in a place where industry leaders now look at our network and see value for their organisation by being a part of this wider group.
"The Trust plays a pivotal role in empowering young individuals by opening doors to opportunity. An increasingly valuable aspect of our business proposition lies in the robust network, granting access to an exceptional consortium of industry professionals.
"Remarkable growth, despite variable economic conditions, continues to allow the Trust to stand in a place to promote the next generation of student leaders, and the ongoing support we receive from partners like Built will pave the way for an even brighter future for our tauira, students, as they embark on the next steps in their professional journey."
For further media enquiries, please contact
Amanda Stanes                                                                             
Keystone Trust – General Manager                                 
M: 021 689 380