When the final whistle blew on the 29th annual fundraiser, the Keystone team and students were back in the changing rooms tidying up just like the All Blacks. There is nothing more humbling than hosting 600 property and construction professionals and seeing them engage with the students, buying raffle tickets and signed rugby balls, and supporting the silent and live auction to ensure the future success of our Keystone family for the years to come.
Thanks to the live auction and the online auction platform Galabid, support from bidders both on the field (at the venue) and off the field was outstanding, raising more than last year with a total of $135,000, going towards the Student Hardship Fund and the activities of the Trust. Thank you to our amazing auctioneer, Justin Haley, Bayleys, for exciting the crowd to dig deep, to our MC, Jim Kayes, for refereeing the event so skillfully, and to our rugby speaker, Kieran Read, for his insightful and humorous comments.
A HUGE mihi to our event sponsors, Wynn Williams, who have stood by this event for the past three years. Their steadfast support has helped us set high expectations and helped create a game plan for success. It is also you, our sponsors and friends, who have helped create the legacy of Keystone Trust. Kia kaha.
Kicking off the event, Eden (2020), Study Award recipient, Bachelor of Architecture graduate and current Bachelor of Music (performance voice), gave an exceptional rendition of the RWC anthem "World in Union". Eden also performs with the Auckland Philharmonic Orchestra and is a member of the New Zealand Youth Choir. For Eden, being able to perform was her way of giving back to the Trust.
Next up to the touch line was Tiaki, (2021) Study Award recipient and current University of Canterbury engineering student from Kaeo, who spoke on behalf of his student cohort.
You can read Tiaki's speech here, but in essence:
"It'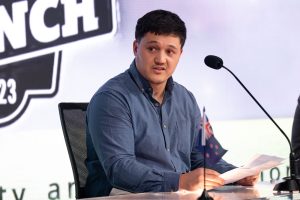 s not just about receiving funds and being left to navigate the challenges of uni and the journey alone. What I value even more is the genuine interest Keystone shows in my progress, following me on my academic journey and extending a helping hand whenever needed. The incredible support provided by Keystone is inclusive, embracing students from diverse backgrounds and cultures."
To understand the lifelong impact of the Trust, we invited alumni, Louise (2021), WAIDE Construction KSP recipient, from rural Bay of Plenty to tell her story from completing her Bachelor of Construction at Massey University to now working as Design Manager with C3 Construction. For Louise, her life trajectory changed when she was introduced to Keystone Trust and she is now pursuing her purpose. Louise says her time as a Keystone student was something which she will be forever grateful for – read more here:
"I can't say that m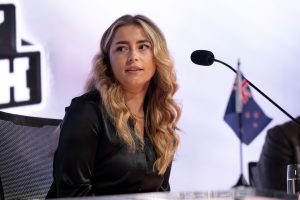 y path to get to where I am has been without its speedbumps. It has been challenging, stressing and scary at times. Regardless, none of my growth would have happened without going through some difficult moments. Keystone Trust helped me grow this confidence by providing me with integral knowledge and experience."  
We couldn't have raised the funds to support our students without the outstanding commitment and support offered by our community. Thank you to all our generous auction donors!
For more photos of the 2023 Rugby Lunch proudly sponsored by Wynn Williams – head over to Rugby Lunch photos
To purchase a limited-edition replica RWC ball signed by All Black great Kieran Read – Here