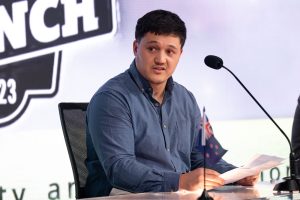 "Kia ora koutou my name is Tiaki Rhodes.
Before I start this speech, I would just like to say thank you all for coming here tonight and thank you to the people behind the scenes who have organised this event. It's a privilege and honour to be standing up here today and delivering a speech to you all. So to keystone thank you for this opportunity.
I've been asked to tell a story of my journey thus far so here it is.
I am a proud born and raised Northlander, coming from the small rural town of Kaeo, which has a population of around 1000. Growing up in Kaeo, where the motto is "small town, big spirit," has instilled in me a strong sense of grounding and appreciation for my roots. Despite our modest financial means, my family has always been rich in happiness. My parents made countless sacrifices to ensure our well-being, even going hungry at times just to ensure we had enough to eat. They worked multiple jobs and made do with limited resources. Growing up and being able to witness their sacrifice and dedication has fueled my desire to one day repay them.
I attended Riverview Primary School in Kerikeri, where I faced the challenge of being one of the few Maori students from Kaeo. This experience taught me resilience and the importance of standing up for what I believe in from an early age. The nearest highschool to home was Whangaroa College which presented further difficulties as many students there were inclined towards negative behaviours such as drug use, smoking, or involvement in gangs. I witnessed friends being led astray and going down the wrong path, which reinforced my commitment to stay focused and make the most of my opportunities. My parents have always wanted what is best for me so we decided to apply for kerikeri highschool and thankfully my out of zone application was accepted.
In 2017, my family and I made the decision to explore opportunities beyond Northland and consider boarding school options. I was fortunate enough to receive the te amorangi scholarship to St Paul's Collegiate, which provided a life-changing experience. Throughout my school years, I was always grateful for the support of my sponsor, despite not knowing their identity. Every term, I would write thank you letters to an anonymous person who believed in my potential. It was during the final week of my schooling journey that I had the incredible opportunity to meet my sponsor in person. To my surprise, I discovered that I had known them all along as they were the parent of one of my fellow classmates. This brought a profound sense of connection and gratitude, knowing that their support had been there throughout my educational journey.
As I entered my final year of school It was never certain on what the next step was for me. St paul's collegiate opened doors to new opportunities, including the idea of attending university, which I had never envisioned for myself. I have always been interested in architecture, structures and the design process of buildings, it combines my enjoyment for problem solving and creativity. So with the help of our school careers advisor we both decided to look into engineering. I set my sights on attending the University of Canterbury in Christchurch to pursue my passion for rugby and study civil engineering. Financial constraints presented a challenge, but after applying for many scholarships I was blessed enough to be awarded one of the 10 Keystone Trust Study Awards for 2021. This allowed for my goal to be possible. Relocating to Christchurch has proven to be beneficial both in terms of rugby, educational opportunities and personal growth.
As I currently find myself halfway through my univers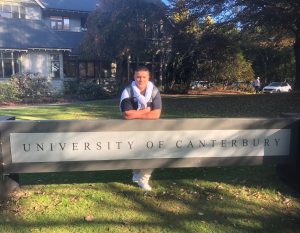 ity journey, I reflect on the challenges and accomplishments I've encountered along the way. While it took me two years to navigate through my first year due to a minor setback, I remained resilient and determined. Embracing the learning experiences that university offers, I've cultivated essential skills such as hard work, sacrifice, life balance, and time management. Balancing rugby training, including early morning gym sessions and late-night field practices, has tested my commitment. However, these challenges have proven worthwhile when I look back and appreciate the growth they have facilitated. Representing the top men's team at the university for the past three years has been awesome, and I've had the privilege of playing alongside talented individuals, and built lifelong friendships. Last year, I proudly represented the Canterbury Men's Maori team and I am playing for them again this year. My aspiration is to continue progressing up the ranks and earn spots on higher teams while my body can still handle it.
My journey has been marked by trials and injuries, I have broken too many bones to count, to name a few my wrist, multiple fingers, hand, jaw, my elbow which required 3 operations, and the reconstruction of my left pectoral muscle. The worst of my injuries was an ATV crash on my aunty and uncles farm in the summer of 2018, this one nearly cost me my life. I caved in and shattered my cheek bone, broke my nose and eye socket, had multiple stitches and 20 staples to patch up the gashes on my scalp, 5 titanium plates and 15 screws were put in to reconstruct my face, and I am still here to tell the story. Throughout these challenges, the support of friends and family are the reason I am here today.
Keystone goes above and beyond providing financial assistance and they offer support throughout our university journey. But it's not just about receiving funds and being left to navigate the challenges of uni and the journey alone. What I value even more is the genuine interest Keystone shows in my progress, following me on my academic journey and extending a helping hand whenever needed. The incredible support provided by Keystone is inclusive, embracing students from diverse backgrounds and cultures. Beyond the financial aid, the opportunities to connect with like-minded individuals have been amazing. From engaging in multiple site visits to benefiting from the mentor and buddy systems (a special shout-out to my mentor, Grant Thomas), attending sponsors' evenings, and participating in team bonding sessions, these experiences have changed my life and the lives of fellow scholars. Keystone's comprehensive support network truly sets us up for success.
I've had a few special moments from keystone including the JLL try for charity touch rugby tournament, i played with the team from goodman, unfortunately we lost in the finals but hopefully next year we can take the co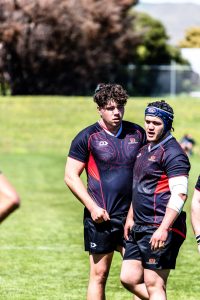 mp out. Through my mentor Grant Thomas i was fortunate enough to get a job with dominion constructors Christchurch branch through which i worked for over the summer period. It was awesome for me to work as a labourer on a construction site and get an idea of what goes on behind the scenes and to experience the development from a labourers point of view. I remember this one talk we had in Christchurch during one of our many site visits but what made this site visit special were the words of a wise man. I apologies in advance if I get the story slightly wrong but ill try my best. from what I remember it goes something like this, there was a man who was once struggling to find work he had no education but was very good with his hands. He decided he would travel as far as he had to until he found a job so he picked up his toolbox and set off on his journey. No doubt that toolbox would have got heavier and heavier the more he travelled. What this man took out of this situation and what he shared to the younger generations of his family was to "get an education and your toolbox will be lighter". My father has labored all his life and he tells me the same thing but in his words "get an education so you don't end up like me". This is one of the many motivators to keep pushing for my education due to the lessons passed down the generations through our elders. And another special moment along my keystone journey.
I have had some memorable moments through Keystone, including participating in the JLL Try for Charity touch rugby tournament. I had the opportunity to play with the team from Goodman, although we didn't win in the finals, I hope that we can take the competition next year. Thanks to my mentor, Grant Thomas, I was fortunate enough to secure a job with Dominion Constructors in their Christchurch branch over the summer. Working as a labourer on a construction site gave me valuable insights into what happens behind the scenes and allowed me to experience the development process from a labourer's perspective.
During one of our site visits in Christchurch, I recall a meaningful speech from a wise man that stuck with me. It involved the story of a man who faced challenges finding work due to his lack of education but he had exceptional practical skills. Determined, he travelled extensively in search of a job, carrying his toolbox that grew heavier with each journey. The man's realisation and wisdom he passed down to younger generations was the importance of education, as it lightens the burden of one's toolbox. My father, who has worked as a labourer throughout his life, shares the same message, but in his words "get an education so you don't end up like me". These valuable lessons from our elders serve as strong motivators for me to continue striving for my education. These are just a few of the special moments along my Keystone journey that have made a significant impact on me and there will be many more to come.
Even when my time as a Keystone scholar comes to a close, I will still be involved and become an Alumni who can mentor and support young individuals like myself. Keystone is much more than a scholarship; it is a whanau. Along my journey, I have had the privilege of connecting with incredible individuals, and I am confident that these meaningful relationships will continue to flourish through my life and throughout my affiliation with Keystone.
So on behalf of all the Keystone students, I want to extend my gratitude to the dedicated support crew and generous sponsors who make this Trust possible. Without your generosity and support, this ship would struggle to stay afloat. Your positive impact has transformed not only my life but also the lives of countless others, and I want to assure you that your contributions do not go unnoticed. Lastly, I want to express my deepest appreciation to Keystone for believing in me and granting me this life-changing opportunity. I couldn't have asked for more, and I am forever grateful.
No reira tena koutou, tena koutou, tena koutou katoa."
Tiaki Rhodes, (2021) Study Award recipient