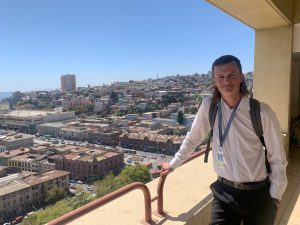 As he sat at his desk in Aotearoa-New Zealand, filling out Keystone Trust's scholarship application, Kane Robertson couldn't have imagined that months later, he'd feel the breeze of the Pacific Ocean as he looked out over the Chilean hillside.
Following selection as the inaugural Keystone Trust and Form Building and Developments Key Partner Scholarship (KPS) recipient in 2023, Kane has recently returned to Auckland after a whirlwind trip to the South American country, where he gained insight into social housing abroad and the architectural design principles adopted by other cultures.
Keystone Trust is New Zealand's pre-eminent property and construction sector charitable organisation, which supports young people working toward qualifications in the sector.
"Kane has packed a lot into his time working towards a Bachelor of Architecture and Future Environments degree at Auckland's University of Technology – and he's a testament to grabbling life's opportunities with both hands," says Amanda Stanes, Keystone Trust's general manager.
Since his early college days, Kane always remembers wanting to be an architect, and he credits the Trust with giving him the road map to fulfil his dream.
"Throughout the scholarship application process, I saw the value Keystone provides through its enormous network of New Zealand's most innovative companies and access to prominent building, construction and property leaders.
"I'm thrilled to be Form's KPS, and I have no doubt the support I receive through my mentor Aaron has given me a competitive edge, as I take note of foundation principles in the classroom and apply them in practical situations through site visits and discussions."
After embarking on his third year of study, supported by Keystone Trust and Form, an opportunity to participate in an international placement at one of Chile's oldest and most prestigious universities – the University of Santiago – became available.
"As part of the application process, we had to review and present a case study on architectural principals and social housing in Chile," Kane says.
Before his trip, Kane had never been beyond Australia. Now, after daily Spanish language classes and an immersive cultural experience, he has a worldview supporting big-picture thinking and practical application to his studies.
"Aside from the stunning university facilities – some of which date back to the late 19th century – the opportunity to travel across the country learning more about the indigenous Mapuche culture was the chance of a lifetime.
"Not unlike the influe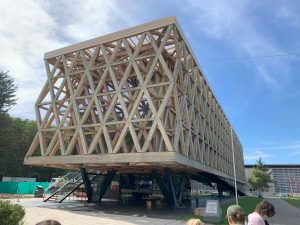 nce of Māori values on urban spaces, we saw how indigenous design principals can serve communities and the impact of cultural considerations on elements like the orientation of space," Kane says.
Encouraging travel and new experiences, Kane's mentor at Form Building and Developments, Aaron Gourlay, says Kane has returned home with deepened insight into architecture in practice and a diversified view of how history and cultural values inform the built environment.
"His enthusiasm for the industry is superb, and this Chilean experience has impacted him for the better in many ways. It's ignited a curiosity, and he is hungry to see and do more within the built environment.
"Opportunities like this are invaluable no matter where you sit in the industry. The aspects of interdisciplinary learning, including sustainable design, urban planning and historical preservation, provide context and support the development of well-rounded and innovative professionals.
"Kane has always been such a great presence, soaking up every opportunity on site visits and discussions. So, it is a buoy for the industry to see him thrive through experiences because he is the next generation of industry talent," Aaron says.
In sharing some of his highlights, Kane says the city of Valparaiso was a stand-out example of Chilean culture.
Valparaiso is a historic port town on the central coast and a UNESCO World Heritage site with vibrant, colourful architecture and networks of winding, narrow streetscapes.
"The homes are on steep hills overlooking the ocean. However, it is exposed and earthquake-prone, which gave our party a chance to learn more about preservation and strengthening efforts for culturally important yet vulnerable architecture," he says.
Back in Auckland with his feet on the ground, Kane's enthusiasm is still palpable, and it's clear he is a determined young man invigorated by his newly acquired travel bug.
"The experience in Chile has given me an undeniable advantage as I continue my tertiary study, in the same way as the support I receive from Form and Keystone. I am so grateful to Amanda and the team for the opportunity to pursue my dreams, and I look forward to my future in the industry," he says.
For further media enquiries, please contact:
Amanda Stanes                                                                             
Keystone Trust – General Manager                                 
T: 021 689 380
E: amanda@keystonetrust.org.nz