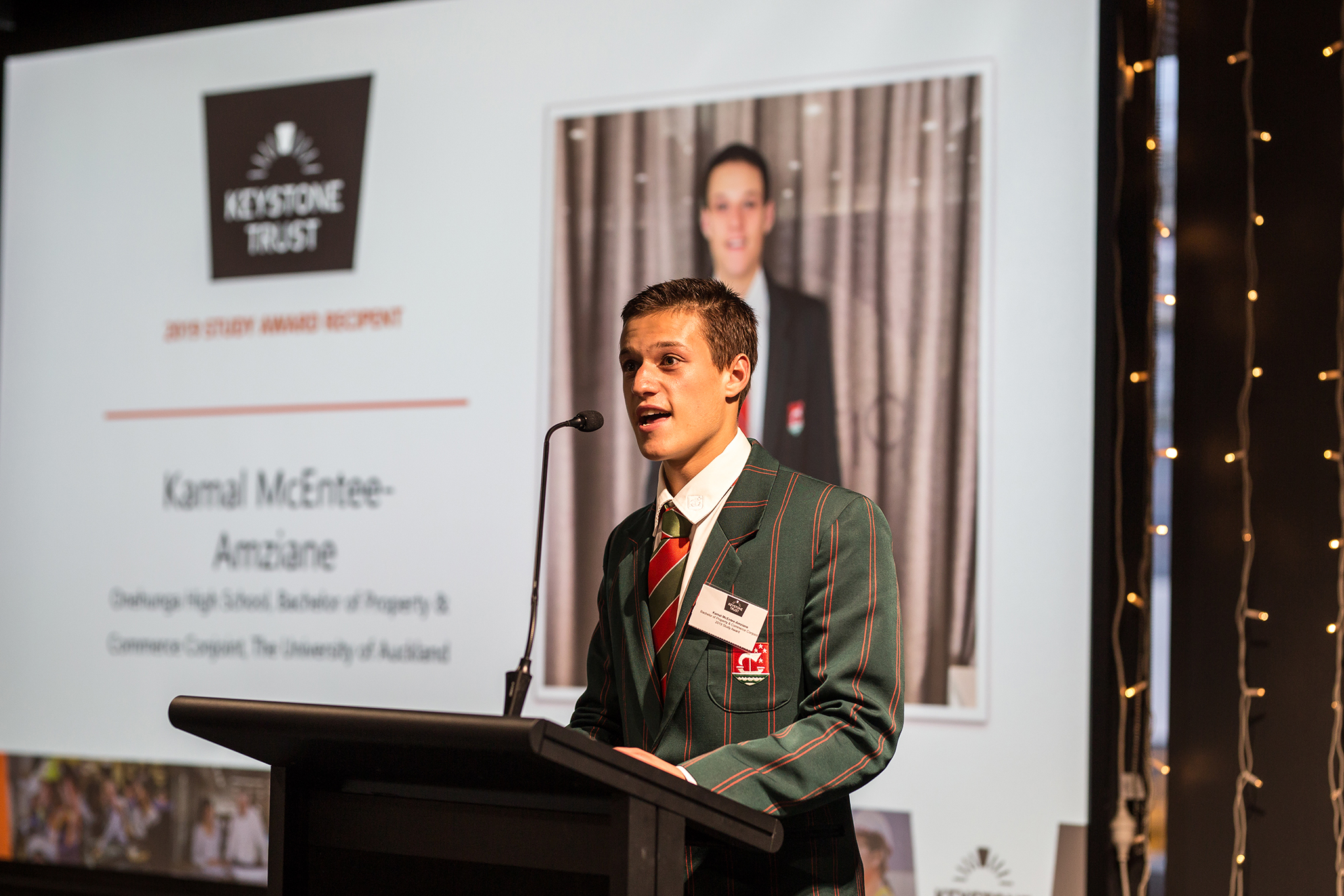 Working in all the various departments at Precinct Properties, Kamal Mcentee-Amziane, a 2019 Study Award recipient, has found his niche in property.  Now in his second year studying towards a Bachelor of Property at The University of Auckland, Kamal says that this experience has really reinforced the academic learning he has received on his course.
Kamal went to Onehunga High School, where school Principal, Deidre Shea, was one of his keen supporters.
"Kamal has faced extreme family challenges during his lifetime, and I would agree that his life experiences have given him the determination and courage to constantly strive to be better in all that he does".
Kamal chose to study for a degree in property at The University of Auckland, "because it will help prepare me the best to achieve my life goal, I know that I want to be involved in property. This degree will offer me many opportunities that I am passionate about". 
At the end of his first year at university, Kamal was offered the opportunity to have a summer internship with Precinct Properties.
"Through the help of Keystone Trust I was able to grow my network in the property industry, which helped me get in contact with one of the largest property development companies in New Zealand called Precinct Properties" said Kamal. "This internship with Precinct Properties has helped me gain a lot of knowledge and experience around how property actually works in the real world. Now I can apply what I have learnt with Precinct Properties to my university studies"
Precinct Properties have had several Keystone students work for them over their time of being a sponsor.
"Working with students like Kamal reaffirms why I love working in the property industry. Being a sponsor of Keystone Trust has meant my team and I can give back to our communities in a meaningful way." says Scott Pritchard, CEO Precinct Properties. 
"Given the way Covid-19 is going to impact youth employment, we need to help our young people upskill and be as flexible and employable as possible.  Keystone enables this and provides impact which as an individual I couldn't necessarily do myself."
Kamal was absolutely chuffed with his experience, and thoroughly enjoyed the summer internship, "thank you so much Precinct Properties for this amazing opportunity."
With the 2021 round of scholarship applications opening on 2 June 2020, talk with us today about how you can help sponsor Keystone Trust and make a difference for more students like Kamal. Contact:  Amanda Stanes, General Manager, amandas@keystonetrust.org.nz