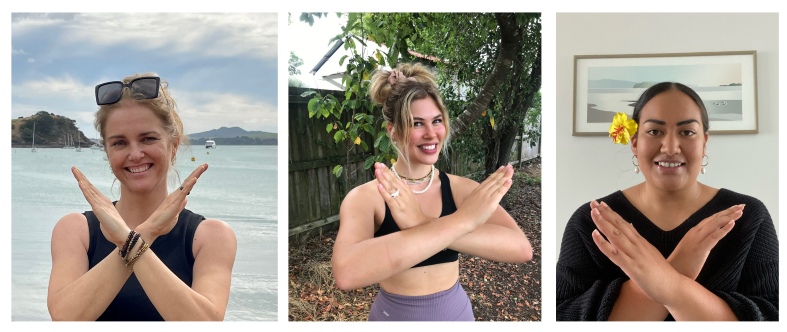 Pictured from left to right: Simone Sharp, Eden Vaatstra and Carinnya Feaunati
Recognising the contribution of women, girls, she, they and them, advancing gender equality and striving to build a better world free from stereotypes and discrimination, this International Women's Day (IWD) has a particularly poignant message.
On 8 March, people across the globe will celebrate women's achievements, raising awareness against gender bias and taking action for equality.
Keystone Trust has the absolute privilege of celebrating the achievements of wonderful wāhine toa every day, and the IWD offers the opportunity to profile four inspiring women who have overcome discrimination and judgement to achieve, succeed and force a new path for women in their fields.
T'iafelelea'I Carinnya Feaunati
Keystone Trust Study Award Recipient 2010
Informed by her experience growing up as one of the only Pacific families in Taranaki circa 1996, T'iafelelea'I Carinnya Feaunati is a staunch advocate for diversity whilst holding roles as New Zealand's only registered Samoan woman architect; cultural advisor at DesignGroup Stapleton Elliott; and teacher at Victoria University's School of Architecture. Facing discrimination and bias in her young life, Carinnya has overcome obstacles and today uses her grounded experience and unique insight to foster an awareness of the built environment and the people within its walls. Guided by the Samoan proverb 'O le ala I le pule o le tautua' ('The pathway to leadership is through service'), she uses teachings of family and community from her upbringing to approach projects with a lens to cultural engagement, to deliver meaningful structures that tell stories of place and people.  
Simone Sharp
Keystone Trust Bayleys Key Scholarship Partner Recipient 2006
A career change led tenacious achiever Simone Sharp to a Bachelor of Property at the University of Auckland, after which she has never looked back. Holding a variety of positions at Keystone Trust sponsor and supporter companies Pragmatix, Coffey, The Building Intelligence Group, and now as New Zealand Practice Lead for Project & Construction Management at AECOM, she continues to blaze a trail for women in an industry working hard to achieve gender parity. Simone is the present chair of the Keystone Trust Alumni Association and persistently offers her capabilities to students rising the ranks. As a mentor and role model, she works hard to create engagement opportunities that support women into a spectrum of professional leadership roles and was awarded the RICS NZ Woman of the Built Environment award in 2021.
Raukura Turei
Keystone Trust Study Award Recipient 2006
Backed by a strong sense of tipuna (family), iwi (Ngāi Tai ki Tāmaki and Ngā Rauru Kītahi), and a connection to her ancestral home (Aotearoa), Raukura is a multi-disciplined artist, architect and designer who has used her unique experiences to forge her own professional path. After completing her Master of Architecture (Professional) from the University of Auckland in 2011, she has travelled across the world, and returned home, producing stirring works of art that serve as a cathartic connection to her whakapapa. As a lauded wāhine toa and working mother, her ability to transcend cultural boundaries to achieve an authentic sense of self continues to inspire generations of women at home, and abroad.
Eden Vaatstra
Keystone Trust Study Award Recipient 2019
In her third year studying toward a Bachelor of Architecture and Bachelor of Music at the University of Auckland, Eden Vaatstra's experience as a young woman in the pursuit of excellence continues to shape her approach to life. Overcoming deeply personal obstacles to marry architecture and music in the pursuit of her passion (aiming to design innovative acoustic structures) she continues to demonstrate a commitment to truth and looks forward to championing diversity initiatives that break the bias women experience across social and professional landscapes. Eden has utilised opportunities to better herself, and her close relationship with outstanding Keystone Trust mentor Richard Archbold (Arch), principal architect at Warren & Mahoney, continues to inspire the wider network, illustrating that professional and holistic guidance transcends genders and stereotypes.
Further media enquiries can be directed to the contacts below

Amanda Stanes
Keystone Trust – General Manager
M: 021 689 380
E: amanda@keystonetrust.org.nz